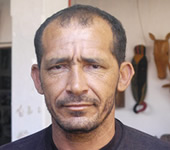 Raimundo signs his work

Racar

because his full name is Raimundo Caetano Rodrigues.
Born in 1966 in the Cariri countryside, Ceará, he has worked on farms and on building sites. "In the place where I used to live there was a person who sculpted wood. I knew this activity existed, but didn't know it could be a profession. One day I saw a friend working. I borrowed his tools and made a piece. That was in 1987 and the piece was an image of Saint Sebastian. I have never looked back. I make different shapes but what I really enjoy is sculpting local themes, from our folklore. Life today is easier. I work for myself, for nobody else." Raimundo works at home and at the Father Cícero Craft Artists Association, where he spends most of his time.