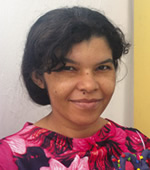 The work by

Maria do Socorro Cândido

shows an evolution in the themes developed by her family. She learned with her mother and says she's been working with clay ever since she can remember.
What for?
"I enjoy making whatever I feel like. I made a wall with all the faces of my relatives (like a family tree) so it's easier to know who is who. I also enjoy making characters from local festivals, such as the Jaraguá, which is like an ostrich. I love it when people visit and ask for a theme, a story. For example, I made an Indian girl for the cover of a book and I really like reading this. It can be difficult, but it's a challenge and I enjoy challenges." Maria do Socorro was born in 1970, in Juazeiro do Norte.