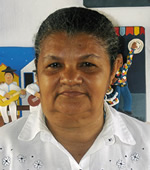 Ciça's sister,

Maria de Lourdes Cândido

was born in 1939 in Juazeiro do Norte. She used to live on a smallholding close to the city and had 4 children. "They were small and used to get on my nerves. Near my house there was a clay bank so I decided to use the clay to make toys to entertain the kids. Then I started making other things. Things I saw around here and in town where we went to live. I started making small clay slabs to which I stuck figurines and made a small hole to hang them on the wall. One day Stênio Diniz (a famous xylographer) asked what I called those slabs. I said I didn't know. He said we should call them Themes, and it stuck."
Maria de Lourdes developed her Themes, which represent day-to-day life, very well. Although she hasn't actually experienced everything she makes, she explains that television helps by making everything seem real.
She says she have made regional themes such as local festivals, saints and peasants, and themes seen on TV, such as rich and well dressed women and a busy gym in Rio de Janeiro (RJ). Maria de Lourdes has two daughters that follow in her footsteps as artists, Maria Cândido Monteiro and Maria do Socorro Cândido.