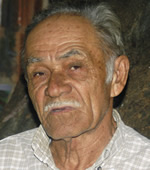 At 10 years old, Manuel Graciano Cardoso was still living in Santana do Cariri (CE), where he was born in 1926. His father was a farmer and also made wooden bowls and pestles "for small change", which

Manuel Graciano

-– as he is known – would help with. "Then there was a big drought, and we went to the place where the government was offering employment. I decided to make animals to sell or swap for something at the market. People liked them, and bought them as toys for their children. I also used to make pestles and mortars for grinding corn and so I always managed to make a little bit of money for my mother."
Married, with children, he carried on sculpting wood and looking after a plot of land. He used to make ex-votos, animals and nativity scenes. Xylographer Abrahão Bezerra Batista "discovered" his talent and took him to Master Noza Centre for Popular Culture. "I worked there for 33 years, but now my health isn't so good and I prefer to work from home."
His work has a unique style with lively colours. The human figures have the features of ex-votos, but it's the animals that really expresses his creativity. "It's an animal, so I can do whatever I want with it. I make them full of teeth because one day I tried that and people liked it. They are laughing, they are not angry."
His wife, Ciça Cardoso, helps him with the finish. The sons Ciço (Cicero Ferreira Cardoso) and Francisco Cardoso, stepson José and grandson Ednaldo Ferreira have already learned the trade. According to Manuel Graciano, they are ready to follow their own paths.