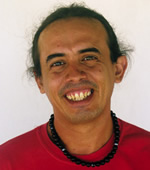 Antônio Jarder Pereira dos Santos is 40 years old and still hasn't "become a serious man". Thank God for that, otherwise he would become dull, and so would life. There would be no more gadgets and toys full of colour, no more paintings.
When he was born in Camocim (CE),on the border of Piauí, things were certainly more fun. "We had toys for the summer and for the winter. We made them ourselves. My grandfather was a carpenter and went blind, so he became a storyteller. It was in this fantastic universe, full of stories where anything could happen, that I grew up. Since then I've been transforming everything into toys. When my grandmother went on pilgrimages she always brought back a small toy for me which she bought at the market. Cars, animals, all sorts of regional toys."
Things became so serious that his nickname

Dim

, became the trademark for his gadgets. His toys are known as Brinquedim (little toy). Today, living on a smallholding close to Fortaleza, Dim says he's had plenty of adventures. He tried São Paulo (SP) but the city didn't give him peace. He went to other capitals, sometimes just to exhibit his work, sometimes to take part in workshops or to take part in public interventions, such as decorating a square in Rio de Janeiro (RJ).
"Now I know what my path is. I know I'm an artist. It's funny because I always did badly in art classes at school, but I always enjoyed drawing. I used to paint with clay, charcoal, whatever I could lay my hands on. I started using discarded materials to make my toys. The Bobo Doll made with polystyrene and paper, I've lost count, I must have done about 15,000. They remind me of when we were children and an aeroplane flew by. Everyone looked up. I wanted to reach it and fly away. Maybe that's why, when I was very small, I made two wings of cardboard for my bicycle and flew around the neighbourhood. People thought I was crazy. I was just happy."
If it were up to him, his toys and games would be spread around the world. "We need that, because the world is too violent. If children spend all their time watching violence in its different forms, when they grow up they will think it's normal. I know my work is good, otherwise so many people wouldn't like it."
This modern Gepeto didn't need an academic education to get to where he is now, nor to have a doll that became a human being. His mastery is natural and his toys transform people into beings a little bit more human. It's extraordinary.