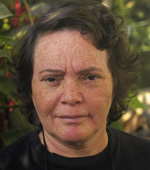 Salete Diniz

was born in 1957 into a family of "imaginary people", for that's how her grandfather called the images he used to sculpt in imburana wood. Her mother, Paulina Diniz, was a famous saint maker, devoted to an image of Saint Francis sculpted by her son, José Diniz.
"I have that image with me, it reminds me of my mother. I've been working with imaginary people for 38 years. I can't do anything else.
I take a piece of wood, imagine what I'm going to make, start sawing and it happens. I love my work, and wouldn't do anything else. But the sad thing is, I think this art will die with me. My husband and my son make art as well, but I'm the one who looks after the imaginary people. I work a whole week to make a small nativity scene, and thankfully all the pieces sell."
Salete has two sisters who also sculpt. One lives in Lagoa Seca and the other in Campina Grande (PB). She finds it difficult to stop sculpting. Her knife works while she speaks, she gesticulates and takes care of everything around her. Her pieces are expressive and simple. Pieces by Salete Diniz, can be seen at the Galeria de Arte Antiga e Contemporânea, in Natal (RN).