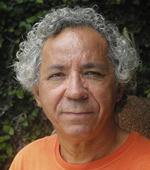 Miguel dos Santos

has lived with art since he was a boy. He never thought his toys would one day become so valuable. "My grandfather was a friend of Master Vitalino, and on Tuesdays and Wednesdays he used to go to the market in Caruaru (PE) and bring me a small ox, or a little man made of clay. They were toys made by the Master.
Years later, Miguel went to a technical school in Palmeira dos Índios (AL). In his spare time he helped a painter. "I used to clean the paint off the easel and I watched everything he did. One day I painted a portrait of my grandmother and showed it to him. He said he didn't want to work with me anymore because I was an artist." He says his grandfather saw the portrait and confirmed it. "I didn't really know what an artist was, but I liked the sound of it. So I carried on, and have never stopped since."
Today, large clay sculptures are lined up outside his home and his workshop and act as a business card representing what lies within. Apart from the sculptures, Miguel paints, sculpts in wood and works on a technique he calls litoplasma, which he uses to print patterns on tiles. His work represents the North Eastern soul where religion, heat, dryness and the sea are united. Miguel is an artist who goes beyond the borders of rustic and popular craft. His technical skills and his curious mind of a researcher and inventor transform his workshop into a true art laboratory in which ideas gain life and expression.