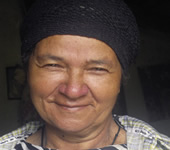 Master Socorro

– Maria do Socorro da Conceição – started making rag dolls when she was 7 years old. "They were for me to play with, but only on Sundays. During the week we started working early in the morning. At midday we stopped for a bit, and I took the opportunity to make the dolls. My Aunt Maria was very good at it. My dad used to get angry, he didn't want me to make dolls because the work in the fields was more important."
She remembers the life on a smallholding in Esperança, where she was born and where she's always lived. "I enjoyed making dolls and I used to sell them. Every week I made a dozen during my lunch break. One day a woman that sold bric-a-brac in the market took my dolls with her and every week she gave me 5 "tostões" – one bill and one coin. With that money we could buy a lot of things."
As time went by other people arrived in the area and the market grew, sellers travelled more and more. "One day a man saw my dolls somewhere in Pará, asked about them and ended up here. Lots of people started to come. Every two weeks I would fill a big bag with dolls. So we got the people here organized and I taught them how to make them as well. Then we received a huge order from Germany for 5 thousand dolls. After that things went down. Today there are less people with me, and we only work when there is an order. But personally, I don't like having nothing to do so I work even when there's no order, doing what I like.". Master Socorro was born in 1940 and lives in the house built by her father, on the Riacho Fundo smallholding.