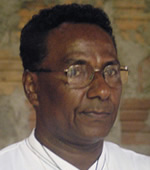 Master Gerard

was born José Geraldo Machado in Barra, in 1953. He is never away for long, but his work is known all over Brazil and abroad. Following the traditions of the land, he started working with ceramics while still young, moulding pots and toys. "At first I started sculpting wood, by myself. When I was 12 years old, I dreamt I was going into a cave and saw Jesus as a man. I woke up and felt like modelling his image. First I made it in wood, then in clay. My second piece was Our Lady of Conceição."
Master Gerard is one of the most talented saint makers in Brazil. In the early 1990s he started making Catholic figurines, and a decade later started expressing the religious syncretism that is so strong in Brazil, in sculptures of orishas, the African gods.
His pieces are delicate, baroque in his own style, and the drapes of Virgin Mary flow into the skirts of Iansã, Iemanjá, Nanã and all the other orishas. Rich in detail, they are powerful regardless of their size. The light clay of the area is decorated with slips made from different pigments, and in the hands of the master become figurines full of grace. All sacred, and all beautiful.
Today Master Gerard has a big workshop where he works with young people from the area. It's a magical place, where visitors coming through the gates are compelled to bow to their saints – Catholic, African, or both.