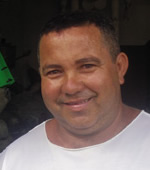 Teacher

José de Alencar

's life changed on the day he was fired from the primary school Fortunato Correia in Sao Luís (MA). Upset, he left the school and kicked a box that was lying in the middle of the street. It was full of bottle tops.
"I was so angry, I don't even know what happened. I picked up the bottle tops, took them home and made a huge turtle. The tops decorated the shell. At that moment I found out that I was capable of making things, of creating characters, of building the things I imagined. Large or miniature, it doesn't matter. I love it. I discovered I could make this art which is now valued because it's recycling. I try to live off this work because it's what I enjoy doing."
On festive occasions, he always makes something to decorate the front of his house, all made with things he finds on the streets. It can be for the World Cup, Carnival or the Bumba-meu-Boi (Ox Festival).