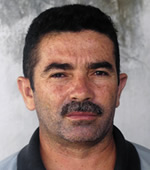 Joaquim José Alves has two big responsibilities. The first, to look after the museum named after his father-in-law and uncle, Master Dezinho, a famous saint maker from Piauí, who started a local tradition of great sculptors of sacred art. The second, is to be named as a kind of successor by his uncle.
"I always worked with my uncle. He is the one who prepared me, but our pieces are different. You can notice it in the faces and I also like to make regional figurines, not only saints."
Master Kim, as he signs his pieces, was born in Teresina, where he met his uncle, who moved there from Valença (PI), to allow his children to study. "When I was in primary school, I liked to use a razor blade to sculpt pencils and chalk. Nowadays I work with cedar from Pará because the local cedarwood splits very easily." He sculpts a block of wood without drawing first. "The only things I draw are the motifs on the clothes. My uncle had many patterns. He liked to put cashew fruits and flowers on the saints clothes. I think it makes them look more regional."
The figurines made by Kim have thinner face, with more details. Slowly, his work has been developing and acquiring a language of its own, different from Master Dezinho's, whose pieces are simpler and still recall the way they started as ex-votos.