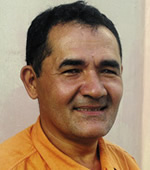 In 1977, when he was 16 years old, Francisco Souza Ferreira took part in a art exhibition in Brasília. When he arrived he noticed he was the youngest participant, and there were six others named Francisco. The older ones got together and gave him an artistic name –

Fransofer

– putting together the beginning of all his name and surnames. To his family and close friends he remained Chiquinho, but the artist Fransofer started to get a name for himself and travelled the world with his paintings and drawings.
Fransofer was born in Bequimão (MA), and as a child he used to play with bits of clay he took from the bottom of the river where his mother used to do the washing. "I made animals and little people to play with. And I was always in awe when I saw the potters from Itamatatiua walking past with their pots and dolls to sell in the fair."
Fransofer managed to buy a smallholding and to fulfill his life's ambition to build the Fine Arts School of Bequimão there. "About three years ago I started coming to this place and making clay objects, as an experiment. I hadn't done anything since I was a child. People started to come round, observe and work with clay as well. And that's how the centre for sculpture started. Today

Jaburu Ceramic Centre

is known for its white clay and strong colours. When we fire the pieces there's always a party. There's drumming, food and wine." Self-taught, Fransofer likes to experiment with ceramics. The group has built a kiln and is improving the firing technique. Among his pupils, the work of bricklayer Domingos Porco stands out.