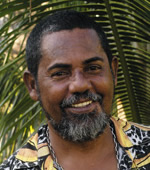 The saga of this family of extraordinary crazy, mad and visionary sculptors from Cachoeira began with Boaventura da Silva Filho, a good humoured and talented barber who was nicknamed

Louco

(Crazy). One of the stories behind this name says that he was considered too exotic at his workplace, and was constantly criticized by his neighbours. The local nuns used to tell their students to avoid "the crazy man". He thought it was funny and took on the nickname. His artistic work started to become well known and soon Louco, who died early at 59 in a car accident, started a tradition of sculpture in his family and in his town. All his relatives followed in his footsteps and decided to take on funny nicknames for themselves. His brother Clóvis, now deceased, started signing his pieces as Maluco (Mad) and his nephews as Maluco Filho (Mad Son) and Doidão Bahia (Very Crazy Bahia). His own sons sign their work as Louco Filho (Crazy Son) and Mário Filho do Louco (Mário Son of the Crazy).
Louco's fantastic world united reality and fantasy, and he produced strong, seductive pieces that move whoever sees them. You either love them or you don't, there's no middle ground.
His nephew

Doidão Bahia

– José Cardoso de Araújo (picture in the opposite page) – was born in Cachoeira in 1950 and is now a kind of guardian of Louco's work. "My uncle started by making smoking pipes in cajá wood. Then we started sculpting roots, and soon things changed. We would get a piece of wood to work, and the only thing we could make were Orishas (Afro Brazilian Gods)."
Doidão Bahia started sculpting in Salvador, in the central market where he used to work under the influence of his uncle. "I like to make very large pieces. Many other people learned how to sculpt with us, such as Dory – Lourival Cardoso de Araújo. I think we started a school of sculpture that has a very defined style." Doidão is putting together a public collection in Cachoeira with pieces by his uncle, his own and by other member of the family.