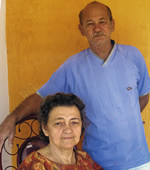 His name is long and fanciful – Saturnino José Joaquim da Silva Xavier – but everyone knows him as

Zezinho de Tracunhaém

, both in Brasil and abroad.
Born in Vitória de Santo Antão (PE), in 1939, he worked in a farm in Nazaré da Mata (PE) and was a bricklayer in the city.
His life hasn't been easy. With nine children to support, he's been through rough times. "Everything I know I learned with God. In 1958, still in Nazaré da Mata, I started modelling popular figures in clay. In 1966 I had my first exhibition, in the local library. When I came to Tracunharém, I met saint makers and so the saints entered my life."
His four sons – Carlos, Nildo, Fernando and Claudio – help him with the artistic work.
Today Zezinho sculpts saints and other sacred figures, life-size and bigger. He has simplified the curves and details of the baroque to generate a clean style.
His wife, Maria Marques da Silva, started playing with clay in her time off from housework. "I have my own style. I like making pretty ladies, and they've been exhibited many times. I make them because I enjoy it." The dolls appear full of grace and charm in the middle of the masculine universe of the workshop. "So people know it's me, I sign

Maria of Zezinho

".