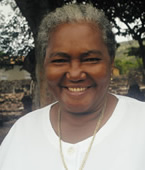 300 km away from Palma (TO), in Natividade, lives

Mrs. Romana

(Romana Pereira da Silva), who was born in 1941 on a smalholding just around the corner and thought she would look after the vegetable patch for the rest of her life. While still a child, she had a dream that revealed to her an important mission she had on Earth, but before she could achieve it, she worked as a cleaner and on the land. "With time, people started to arrive. In 1977 people found out about my gift and many came to see me. If I touched them, they would feel well. In 1983 I started drawing, and in 1989 I obtained a license to build the Bom Jesus de Nazaré Centre on the Jacuba Farm."
Her extra-sensorial gift and her mission are expressed not only in drawings, but also in hundreds of sculptures that Mrs. Romana makes with the help of her disciples and relatives. Every day people arrive from all over the world to meet her, listen to her and get her blessing.
"I think I've been chosen to replicate an essence that exists in space, and each day I do not manage to do all the things I'm meant to do to reach their amazing beauty." Truly amazing, her drawings become sculptures that mix stone, sand, cement, rocks, wire, bottles and whatever material she needs to reach the superior force that unites sentiments from every religion in an extraordinary garden filled with energy.