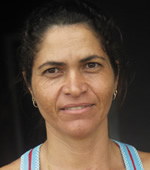 Her full name is Rita Aparecida Rosendo Vieira, but she is known as

Cida

. Strong and hardworking, she lost her husband early and carried on his work in order to support her family. Cida was married to Soço (José Cícero Vieira Peixoto). He and his brother Zeca learned the art of sculpting wood with Master Manoel da Marinheira.
"My husband was a mechanic at the Triunfo sugar factory. We lived for a while in São Paulo (SP) and went back to Boca da Mata (AL). Soço started working with his brother. He was a wonderful sculptor, and really encouraged me to do my own thing, but I didn't want anyone to see it. I came to live here em 2.000 and some months after our arrival Soço passed away, run over in Maceió (AL). With a son and a newly born daughter I had to make do. I had no choice. So I got the wood, sketched on it with chalk and carved it. Two people help me with the finish and my son, who is now 15 years old, is also sculpting. He had to learn. Things got difficult when his father died and he had to help. All our earnings come from the craft. I know people always want the same things, cats and lions. I make them but in my own way. They have to be like me. When my son starts working well by himself I want to be able to do just what I like. Just what the wood asks me." Although they follow the style started by Master Manoel da Marinheira, Cida's animals have a look of their own, and the movement of the hair and fur is more rounded and organic.