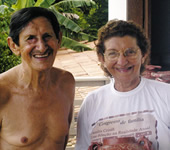 Raimundo Saraiva Cardoso – Master Cardoso – learned from his mother Lucila (who is now 101 years old), an expert ceramist and descendant from the Aruã tribe who inhabited the region how to moulded the clay. All the knowledge of the rituals that makes this kind of ceramic come alive are respected and join man to earth in a communion that appreciates and respects nature.
Master Cardoso only attended primary school, but can be considered one of the principle experts in Amazonic ceramics for his links to his ancestors and for his efforts to seek information about this ancient Brazilian art in books. Self taught, he could teach a lot to academics and researchers.
Apart from the reproductions that he made with authorization from the Emilio Goeldi Museum, Master Cardoso had work of his own. The female form and amulets were his true calling. He spoke with fondness of the women in his life – his mother, wife and daughters – and as he modeled the clay his hands seem to follow a sacred ritual. The sensual shapes appeared naturally in a way that was truly native to his people. It was a miracle that one could see happening, and it was impossible not to be moved by it. It was a passion; it's art. Unfortunately Master Cardoso passed way in May, 2006 while we were working on this project.
Mrs. Inez de Lima Cardoso, his wife and companion in a life dedicated to native Amazonic ceramics is a very special woman. Simple, as especial people should be, she is a very talented sculptress in her own right. Her series of pieces dedicated to the gold mines of Serra Pelada (The Superpopulation of the World) is exquisite. Mrs. Inez also gets her inspiration from pure, naive native art. She is an artist who lives, observes, feels and creates.