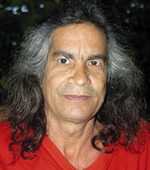 At 12 years old

Pedro Pereira

left the Xavante tribe where he was born. He wanted to study, and life had been hard since white men invaded the village. He used to wonder around the forests and river banks sculpting roots and small pieces of wood using a pocketknife. "And around that time I had a dream. It was a sign from the gods telling me to search for the definitive shape within the Brazil-wood – the Etérnea (Eternal + Ethereal) shape. That is my mission."
Pedro says that one day he got lucky. An engineer saw his pieces and liked them so much he decided to help the young sculptor. "This friend took my pieces to cities around Brazil and abroad. I got to travel, taught children abroad and visited several places." To Pedro, the shapes are hidden within the wood. "I hold my chisel and they appear. One day I will find the Etérnea shape, and then my search will be over."
In the hotel where he lives, in Caldas Novas, he is responsible for looking after the huge forest that has been replanted locally. "The white men destroyed everything but it has all been replaced. I helped plant each tree and I live here taking care of them." Within the forest his pieces fit as if they have always been there.