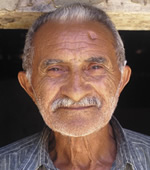 Pedro Ferreira de Souza

was born in the neighbouring town of Floresta in 1931. He learned how to make wooden saints with his wife, Zefinha Paulino, pioneer in the art of making figureheads and saints in Ibimirim (PE). Pedro became known as the saint maker who works under a cashew tree. Zefinha died early, at 38, and her talent was well known abroad. Pedro was the teacher of many other saint makers in town, such as Master Nivaldo, who then taught many more.
Now quite frail, he says he learned a lot with Luiz Paulino, the first male saint maker in the area. Today Pedro continues to make small figurines that stand out with their simplified baroque style with the features of people of the North East.
His son Gilberto spent time in São Paulo (SP) and has now returned to Ibimirim with the intention of starting the Zefinha Paulino Museum. It's a hard task, for today the town has lost the economic importance it once had and is only known for the production of religious images, but without the infra structure that there is in Alto do Moura or Tracunhaém.