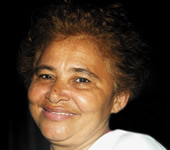 Mirtes Rufino

lives in the middle of the jungle, surrounded by the things she likes to work with. She tells her remarkable story. "I went through a rough period of depression. Really bad, I didn't want to go on living. One day, I was by the Madeira River (Wood River), which got its name because of all the wood floating in it. It was like a wood cemetery. I saw one piece with thick bark, I picked it up and started peeling it compulsively. My nails were all split. Right then, I realised that piece of wood was an alligator, still dirty with the blood of my fingers. I started crying, and dragged that piece of wood all the way to my house. I worked on it for a week, non-stop. The day I finished, a friend from Curitiba (PR) visited me and took the beast away. Since then, I have never stopped."
Today, her characters are the people of the forest, specially the rubber tappers. She waterproofs the clothes of the sculptures with rubber sap, and makes the bodies out of wood.
When asked about the reasons for making clowns, she is honest: "When I was down, I met a guy who was a clown. He helped me a lot, brought light and laughter to my life. I never forgot him, and I will make clowns forever."
Today, her work is recognized all over the country. She has exhibited in Sao Paulo (SP) and other capitals, and knows that the public is the measure of her success. They are the ones who tell her if she is on the right path or not.
CLOWN
Wood, fabric, natural latex, paint and pigments,
around 80 cm tall

YOUNG WOMAN (detail)
Wood and fabric, Work in progress

RUBBER TAPPER
Wood, fabric, natural latex
and seeds, 40 cm tall
RUBBER TAPPER
Wood, fabric, natural latex
and seeds, 40 cm tall. Private collection