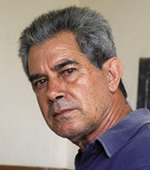 Son of G.T.O. (Geraldo Teles de Oliveira), from a young age Mário Teles de Oliveira watched his father sculpt the huge, fantastic pieces known as Wheels of Life, and soon became his assistant. He was aware of having a teacher who was becoming more and more famous and recognized by admirers and collectors of popular art. Mário Teles was born in Divinópolis in 1942, and lives in the house that today is also the G.T.O. Museum. In the backyard he carries on working. "When my father started he worked at a hospital as a watchman and used to make figurines in pieces of wood he found laying around, using a pocket-knife. He started to make more and more things. One day he had a dream, that was a kind of calling. The Live Wheels became bigger. He marked the wood and I used to help him carve it, but it was all in his head. When I helped, he used to say I was talented." Mário got a job at the government's Health Department, helping fight malaria, and there he stayed until retiring in 1994. Since then sculpture ceased to be something he only did in his spare time to become a full time occupation. Although he sticks to themes and motifs that clearly belong to the fantastic universe created by his father, with hundreds of human figures repeating themselves and coming together like a giant puzzle of life, Mário prefers folkloric themes and images that reflect the musical universe of Minas Gerais, signing his work

Mário Teles

and not with initials like his father.
As often happens in family workshops, apart from Mário one of G.T.O's grandsons, Geraldo Fernando de Oliveira, has joined the work and signs his work G.F.O., and Milton Marcolino da Silva, married to one of G.T.O's granddaughters, also sculpts.