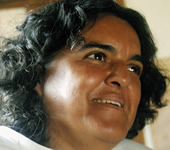 The best mask maker for the Cavalhada Festival in Pirenópolis is

Lurdinha

. Born Maria de Lourdes Oliveira Leite in 1963 she's had close contact with this art since she was a child. "When I was 7 years old I used to watch Master Vasquinho working. A bunch of kids got together to learn but of them all, only I carried on. I love it. I make oxen, leopards, people and clowns. The clowns wear the strangest masks to ward off evil spirits."
Lurdinha makes the masks using a technique of paper layering. For the large ox masks she uses a real horn as a mould, the largest she can find. "That's why the ox is so beautiful. I hope I can carry on making it like this. There aren't many people who make this work nowadays. It's hard work and you must really enjoy it. And there's little money in it. But there are collectors, and the people who take part in festivals in the neighbouring towns also comission things. When it's time for the Cavalhada Festivals I work non-stop, night and day, as there's always an order to complete."
Lurdinha is responsible for giving the knights and participants of the Cavalhada festival in Pirenópolis the best and most imaginative masks.