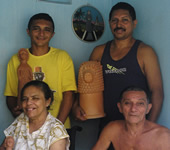 Manuel Gomes da Silva –

Master Nuca

or Nuca of Tracunhaém – has a simple explanation for his work in clay. "My star sign is Leo." Maybe the stars do help, but the true explanation is in the hands that mould and sculpt, in a tradition that involves the entire family – Master Nuca's pride and joy.
"All my family worked in the sugar factories in Nazaré da Mata (PE), where I was born. In 1940, when I was 8 or 9 years old we arrived in Tracunhaém. Back then I already used to play with bits of clay. My father bought a bit of land, built a shack and we stayed on in the town. Life in a sugar cane plantation is very hard. We used to look after our fields and there was a lot of clay around. I used to make pots, toy horses, ironing boards for the girls to play with, dolls, and everything would be taken to the market in Carpina. I grew up and carried on making things because I thought there were too many people making saints around here. I decided I would be different. I made a lion and a dog. That was back in 1968 or 69. My wife Maria helped me. I got an order from Recife, in 1970. It was the first time. I made the animal and Maria made the mane. She decided to put dolls hair on the lion I made. She was the one responsible for making the dolls hair and that's how the curly haired lion came about. It became very popular. I also made a lion with straight hair, and people liked it too. That was good, because when I started I never thought I could make a living from art but that's how I've got to know the world and raise my family."
Today, the sons Guilherme, Marco and Marcelo continue their father's work with their own styles. The daughters, according to him, didn't want to learn but the grandchildren are always around, playing with bits of clay. Master Nuca, who is recovering from a recent stroke, speaks with a lot of love for Maria, who can't work as much as she would like anymore. Due to diabetes, she is in a wheelchair, and her vision is badly impaired.
"We invented it all for fun. My thoughts were united with hers and we came up with the curly lion." It worked.