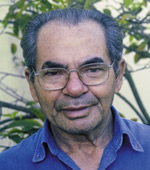 Manuel Eudócio Rodrigues

's grandmother was already making pieces in clay when he was born in 1931, there in Alto do Moura . "When I was a child I saw the pieces by Master Vitalino at the market and felt like trying to do it as well. That's how I started. At first I made toys to play with, then I started selling them, and then I went on to make bigger pieces which were more expensive. I came up with different scenes, such as local regional festivals. I made a scene with 28 pieces. Today I don't sell as much as before but I raised my 9 children working with clay. There were times when I sold a lot, and then 4 or 5 months would go by with nothing; so we would work the land. Seven of my children carry on the clay work. I started making larger and larger pieces because my eyes are weak to do tiny stuff like the ones made by my nieces Marliete and Socorro. I've travelled and I know how valuable our work is."
He didn't use to sign his pieces, but fortunately he started doing so in 1950.