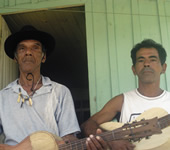 "Some people say the fandango came from abroad, but it's not true. Fandango is ours, invented by the caiçara (coastal natives)."

Leonildo Pereira

, who was born in Rio dos Patos (PR) in 1943 is proud of being a fandango player and has been dancing, singing and playing the fandango ever since he can remember. "I make instruments, guitars, violins and the machete (a 4 stringed guitar). I play the rhythm and I'm part of the Pereira family band. He believes fandango is getting well known because it's dying. "So now government people are rushing to open a Fandango Museum." Uniting music and dance, fandango is a rhythm that used to be played after people got together to work on the harvest, or while bringing the boats back from the sea, any activity where the community got together. "It was hard to learn. Our parents didn't teach us. I had to watch, from a distance, and picked it up." This is remembered by

Nilo Pereira

, who also makes instruments and plays the guitar and drums to the rhythm. Apart from playing fandango, Nilo also sculpts in wood. "I make a few bits, but they take a long time to sell. The instruments are made for other families because not everyone who plays can make an instrument." But Nilo's sculptures are worthy of notice. They have strong, simple lines. He cuts the wood with the same knives and axes used to make the guitars and violins and thinks it's funny that some people like his "ugly faces". Nilo Pereira was born in 1954, in Rio dos Patos (PR) and both he and Leonildo live in Guaraqueçaba.