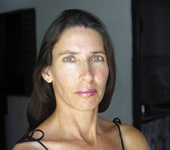 Her accent heavy with strong consonants, the blonde hair and green eyes let you know that

Judite Weber Specalski

comes from the South. To be precise, from Campo Mourão, Paraná. Her ancestors came to Brazil along with others from Poland.
She defines herself as a housewife from the countryside who misses the farm like mad. If she could she would go back.
On the samllholding where she used to live there was a brickworks and one day she felt like trying to make something. It was in Maringá, also in Paraná, that she started making figurines mixing a little bit of sawdust (she used to work in a sawmill), clay and cement (there was no kiln to fire the pieces). The skeletons of the figurines are made of wood.
"The image suddenly comes in to my head and I have to make it. It's a need I have." Her work is recent and her tidy house reflects a pure beauty. The furniture is made of garlic boxes (her husband sells herbs and garlic in street markets), and on the veranda her sculptures greet visitors with a very feminine strength.