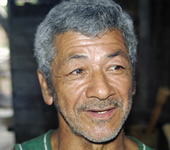 He is from Minas Gerais, but he considers himself a native Rondonian as he's been living in Porto Velho for 20 years. He has done a little of everything in his life, but everything changed when he bought some wood to make shelves. He really liked doing it and using his knowledge of metalwork,

José Ribeiro

made his own small wood turning wheel.
He started sculpting vases, mortars and wanting to make something nobody else could copy, he made a huge wood turning wheel, which he keeps locked away. He won't let anyone photograph the machine. "It's special, and can make "embroideries" on the wood, inside and outside. It's what makes the difference."
Another prized possession is the mahogany tree that grows in the garden. The earth is enriched with burnt sawdust. His wife and daughter help putting the finishing touches to his work, and his son helps with the turning. José says it took him 13 years to perfect the big wheel, and he now hopes to make a 8 metres high column. He has already made one 4 metres high.