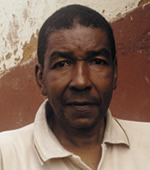 In Minas Gerais it's very rare for someone with a gift for the arts not to experiment with soapstone, and that's what happened to José Ciríaco de Jesus. But his main love has always been wood and carpentry.

Ciríaco

, as people call him, says he used to make a few pieces at home until in the 1970s he started working in the restoration department of a museum in Ouro Preto. "I learned everything there about wood restoration, fibers and other techniques. Mrs. Maria José Cunha was my mentor." His work in woodcarving and sculpture developed and he received many awards from the Arts Foundation of Ouro Preto. "I also took part in many exhibitions, which I enjoyed a lot. I've made many folkloric pieces and works with African inspiration. In 2005 I had an accident (thrombosis) and now I'm recovering. I used to work with pieces of wood resting on my leg, but now I can't do that anymore. As soon as the doctor gives me the go ahead I'll start carving again."
Ciríaco was born in Ouro Preto, in 1956.