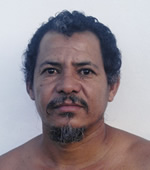 For many years Gabriel Pereira Filho, known as

Biu

, worked as a bricklayer's mate in Petrolina, where he was born in 1959. In the neighbourhood he was in contact with the work of Roque Santeiro, who used to make figureheads inspired by the work of Master Guarany. At 21, encouraged by what he saw around him, he started sculpting. He made figureheads in the style of the old master and the vampire style which became popular all over the country. "But everyone started making figureheads. They are hard to make, and people didn't get that. In 1991, an artist from Recife came around and gave a workshop about baroque art. I identified with that style and never looked back. Everyone used to make figureheads, but saints sell more. I am known as Biu of the Angels. I studied baroque, which is a period style but I learned naturally. I've always been a fan of Aleijadinho (18th century Brazilian sculptor) and my name is Gabriel, like the angel. That explains it, doesn't it?"
Today, Biu lives by working as a sculptor, and galleries and individuals all over Brazil and abroad collect his work.