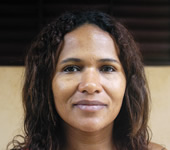 The Jalapão region lies between the state capital, the city of Palmas, and the frontiers of Maranhão, Piauí and Bahia. It shows itself slowly, first with paths of sand, then with the Mumbuca village, which has half a dozen houses in its centre, the rest around nearby. The only brick building houses on one side a school and on the other a warehouse where the golden treasure is kept – pieces made of golden grass. They are guaranteed to sell, and bring a better life to all. All over Tocantins state you can see signs advertising "craft art made with golden grass", but few have the quality and beauty of the ones made by

Mrs. Miúda

and her disciples. The old master, who is now in poor health, has spread her touch around the entire area.
Around 9 years ago the golden grass became famous in Brazil and abroad. The weaving technique taught by Mrs. Miúda was first learned from local native tribes. The perfect knots guarantee the quality of the work. The quality of the grass is also of utmost importance. The golden grass (Syngonanthus nitens) belongs to the family of Eriocaulaceae, can only be found in the Jalapão and must be harvested in September. Ironically, it blooms stronger after the plantations are burnt. Today deliberate fires are forbidden, and the people from Mumbuca hope that the government will help them obtain seeds in another way. In order to have raw material to work with for a year, each artist needs around 20 kg of golden grass.
This is something

Durvalina Ribeiro de Souza

fights for. She was born in Jalapão and has been working in Palmas for the last 7 years, where she originally went seeking medical treatment. Without a doubt, she is one of the best craft artists trained by Mrs. Miúda, who actually taught her mother Alzira. The quality of her work and the unique patterns make her stand out and represent the golden grass work in this book.
She remembers her father took her first pieces to be sold in Piauí. "We lived beside the road, and that's where we put the work to be sold. The people that came to the rally (The Sertões Rally) bought everything." Today, all of Durvalina's family work with the golden grass. Their main concern is about the supply of the material. "Some people don't realise that the grass can't be harvested when it's green. It must be done before the rain, when it's really dry. The drier it is, the more golden the colour. As for us, we must create new things." A good example is

Alteni

, an artist who lives in Mumbuca and is attempting to "make something a little different to decorate my table. I think it's a vase of flowers".