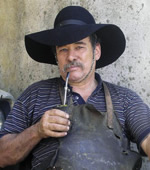 In Alegrete, people giving directions to the house of Derli Vieira da Silva, known as

Derli Chapéu Preto

, sigh and say: "You will know when you get there. It's impossible to describe". Not really. It's the sanctuary of an artist who is also an inventor, a visionary misunderstood by his neighbours.
But Derli Chapéu Preto is proud of his many awards and of representing Rio Grande do Sul at the Eco 92 international conference. Wearing the typical baggy trousers, chimarrão (a regional tea) and black hat of the region, he welcomes visitors and greets everyone who walks past his door. Born in 1950 in Caverá (RS), in the middle of the pampas – or campanha, as the locals call the countryside – he's had a busy, difficult life. Today he lives by himself in a house full of inventions and sculptures. At the entrance, there's a huge statue of a gaucho, 4.5 m tall and weighing 5.5 tons, reinforced concrete. On the roof another gaucho, this time made of iron, shares the space with roosters and other animals that move as the wind blows, in excentric whirligigs. "The funny thing is that in order to survive I fix home appliances, work as a bricklayer and do other odd jobs. I work with stone, wood, gourds, concrete, metals and scrap. When I was in the army I used to make coats of arms for the officers. They let me go, but I should have stayed. Today I'd be retired, like my friends. I've been making things since I was 12 years old. I used to see the girls playing with plastic dolls and decided to make some in wood. Then I went on to make oxen, cowboys, and every material I got hold of I knew what it was going to turn into." In his house there are many wonderful inventions, like the pressure cooker that was turned into a kettle.