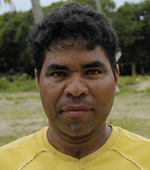 In the community of Barreiras, life turns around fishing and Saint Benedict, the local saint. The community is near two bigger towns, Conceição da Barra and São Mateus, and claims for help from both.
Benedito Castro dos Santos, known as

Dito

, grew up fishing and making craft art in order to get extra cash. "In this area you can find baskets, wooden spoons, toys and pieces used in the festivals dedicated to Saint Benedict and other religious occasions." Art has always been part of Dito's life, and he believes it would be impossible to survive in Barreiras without it. He is the nephew of Mr. Manoel, who used to be in charge of the local Saint Benedict's festival and was a safe keeper of local traditions from dances to music and other religious festivals. Dito knows that things have change and are now different from when his uncle was alive. "Things are much more expensive, we need to buy the wood, because we are not allowed to cut it anymore."
One of the local traditional pieces is a musical instrument known as "casaca". Its body is hollow and one of the sides is coated with uneven bamboo pieces which make sound when a piece of wood is run against them. Traditionally the handle is sculpted with a human head. "We still make casacas for the traditional festivals. If people were interested, we could make more and make a living out of it. I like to make big figurines. I make all pieces using a chisel, a small saw, a hammer and a knife."
One of the most promising local sculptors, Dito says he can only dedicate himself to art in his spare time. "When I'm not fishing I do other things to earn money as a bricklayer. But I won't give up on art. We are creating an association to develop Barreiras and we want to build a warehouse where we can showcase our work to visitors." Perhaps this will allow craft artists such as Xidú (Benedito Castro Pereira), son of Mr Manoel, to go back to sculpting casacas, saving this work from disappearing and allow Dito to develop his sculptures.