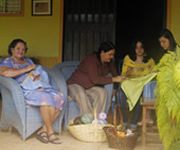 The São Francisco River flows slowly through Pirapora, apart from when there is a flood, which causes many problems for the town. There, when Mrs.

Antônia Zulma Diniz

was a single, respectable young lady, she learned the different kinds of embroidery stitches: chain, back, shadow, full, rococó, just to mention a few.
She got married and took on a new surname – Mrs. Antônia Diniz Dumont – taking with her the trousseau she had embroided herself. As the children were born they were given clothes embroided by her dedicated hands. They grew up, got married, and left home, going to Brasília (DF) and Tiradentes (MG). Mrs. Antônia Dumont carried on embroidering for her grandchildren in order to tell the many stories she used to embroider on her daughters' dresses. Daughters and granddaughters also learned the art of needle and thread, and are as talented as their teacher. After growing up, her son Demóstenes, an artist living in Tiradentes (MG), started to draw patterns for her to embroider. The daughters

Sávia, Ângela, Martha e Marilu

, who all live in Brasília, are helped by their own daughters who have inherited from their grandmother the passion for embroidery. For the first work, one of them drew the patterns on the fabric, and they worked on it together. When one got tired, another carried on, until the work was finished and sent by mail to their mother. Mrs. Antônia Dumont then added a few touches, corrected a few details, and sent the fabric back until the work was completed. The result was a picture painted with needle and thread by the entire family. The first enterprise of this kind was a big success, and soon the embroideries by the Dumont family started being used to illustrate children's books and cover walls in art galleries all over Brasil. "We have never had a problem with this way of making things, sending the fabric back and forth. The mail service works well. But we don't always agree. Sometimes one person undoes something someone has done. Sometimes we change the patterns. But in the end the embroidery emerges, as if it had a life of its own", says Mrs. Antônia. The Dumonts have illustrated the latest children's book by Jorge Amado, and the scenes created by Demóstenes have a common theme: childhood, the São Francisco River and its legends, boats and figureheads, Minas Gerais and Brasília. It's impossible not to be touched by the pictures, and if you want to check the back side of the fabric, will see that the stitches are perfect.