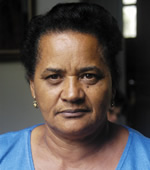 Ana Maria do Carmo was born in Montes Claros in 1944 and still lives there. She was nicknamed

Roxa

(purple) because hers was the darkest skin in the family, and from a young age she helped her mother work with clay. "I like the dolls which I've always made, and also reproducing themes taken from regional festivals. This work has allowed me to raise my family, and I can't imagine doing anything else. Today I work at home and teach at the Craft Artist House. My children have studied and graduated because of clay. It's what has guaranteed a better life for all of us." Roxa's bottle dolls follow
in the tradition of Maria Biá, with three legs, which can also be seen in the delicate native Brazilian dolls.