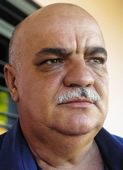 Born in 1954, in Goiânia, Américo Batista Souza Neto was working as a truck driver's assistant when his father, the ceramist Antônio Poteiro, asked him for some help organizing his work. He was 21 years old and in his spare time made a clay doll, which he tried to sell to his father, who wouldn't take it. "It took ages for me to make something that was worth any money, and this kid wants to sell straight away!" remembers

Souza Neto

– as he signs his works. The story goes that he carried on working with clay and never tried to sell anything else to his father. He didn't have to.
Today, the job as his father's agent and secretary continues, but he also has his own work. His sculptures are strong and their themes are folkloric, religious and profane. "I think my father's work is more baroque. I have my own style. I like to make people, I am more expressionist, more surrealist."
In the family home, Souza Neto has built a gift for the city, which is not fully aware of it. On the walls around the property, there are huge panels that took a year to complete. Through the gates one can observe the many sculptures in front of the house, and the panels that cover all the walls indoors. The theme couldn't be more beautiful or Brazilian: women, fish, turtles, birds and everything else Nature has to offer. Plus the huge snake that covers the outside wall and took a year and three months to be finished.